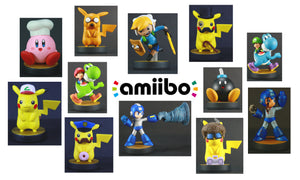 I have been a little slow picking up on the whole Amiibo trend, but now I am going at it full swing. Half of the Amiibos are my idea, and the rest are remakes of Amiibos that others have made. I love the creativity people are having with them. I still have a bunch of other ideas that I am going to bring out, but I wanted to show off all the ones I have done up till now.
If you are interested in purchasing these, I will have them in
My Etsy Store
when I get back in town in a few weeks. If you would like to see more pictures, I have them up in
My Flickr Gallery
.