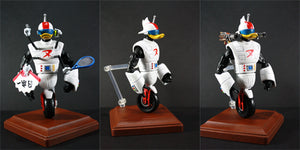 I love Duck Tales, and my favorite character of all time from the series is Gizmo Duck. Gizmo Duck also made an appearance in Darkwing Duck. I have always loved the idea of having a suit that had all kinds of cool gadgets and gizmos at your disposal. This was a commissioned piece that I just finished. I was really excited to do this one, and I love the way it came out.
I used a DC universe Toyman figure, a Maisto Motorcycle, and the head of a Donald Duck Happy Meal Toy. The armor was sculpted and I put magnets in the body so that the extra arms could attack to the figure. The hands are Drossel figma hands that I put on the end of some LEGO pieces. I believe the guns are from a transformer that I had in my parts box.
If you would like to see more pictures, please go to
My Flickr Page
.