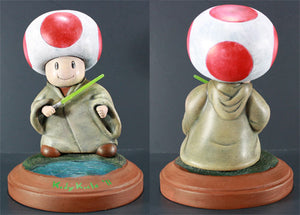 I found this awesome Yoda bath toy at the flea market and thought the body would be awesome with something else. The only character I had that was short enough to pull it off was Toad, so he was chosen. This one took me a little bit to fill in the holes and cracks from what I cut out. It went from being totally hollow to mostly solid. It stands about 5-6 inches tall.
If you would like to see more pictures, please go to
My Flickr Page.
I have also decided to put this one up for sale, so if you are interested, please visit
My Custom Store.