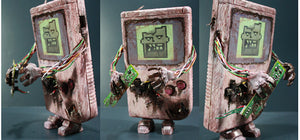 Here is a custom that was unexpected. I found an old Gameboy and I wanted to do something with it. While I was taking it apart, I was reminded of Gameboy from Captain N, and I thought it would be cool to make the screen a face. This Gameboy was really beat up to begin with, so I decided the Zombie motif would work with it.
The face is a printed piece of paper and is from
Sparetype
. The feet are from an Iron Man Mark I figure and the hands are from an Iron Monger Figure. I wanted to make it seem like it was bleeding, but since it is not human I used a metallic brown for blood instead. This stands about 6-7 inches. If you would like to see more pictures, please visit
My Flickr Page.
If you are interested in purchasing this, please visit
My Customs Shop.