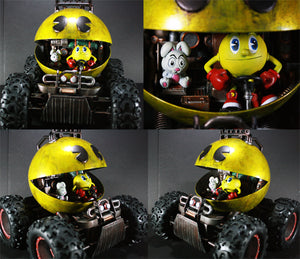 I wanted to do something different than a Mech, so I turned this Pacman Bank into a monster truck. It even makes the classic Pacman "Waka-Waka" sound when you push the button that is on the top. I used an old Radio controlled car and a bunch of fodder parts to fill in the inside. I also decided to give him a little friend to sit shotgun with him so that he wouldn't have to ride alone.
If you would like to see more pictures, please go to
My Flickr Page
. If you would like to see current works in progress, you can go to
My Facebook Page
and like it. If you are interested in buying this, please visit
My Etsy Page
and it should be on there by the end of the day.