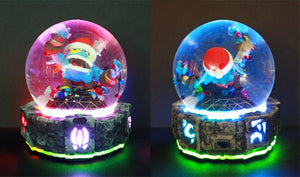 I am an avid Skylanders collector, but the problem with collecting them is that you start to accumulate Portals of Power. I had a few, but I did not know what to do with them. I was watching Youtube, and found
SKYLANDERS GIANTS 'It's Christmas 4 Bad Guyz 2'
and at the very beginning I got my inspiration.
I wanted to try with a smaller portal at first, so I used a 3DS portal and a large snow globe kit. Inside I used an extra Pop Fizz I had and decorated him to be in the holiday spirit. The globe stands about 6 inches tall, and I used Super Bright color changing LEDs to get the portal to glow.
If you would like to see more pictures, please go to
My Flickr Page
. This one is currently not for sale, but if you would like me to make one for you, please contact me, and we can talk about a commission.