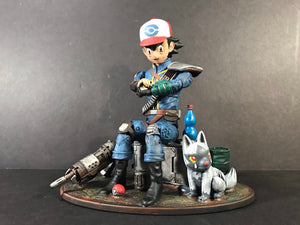 Have you ever wondered what the Pokemon Universe would be like after a nuclear fallout? Probably not, but here is what it would look like. I have been wanting to do a mash-up of Fallout and Pokemon for a while, but couldn't come up with a decent idea. Eventually, this interesting piece is what developed. I was originally going to go with the standard Pikachu as his partner, but decided to use a Pokemon that was more canine in nature (since in Fallout, you could have a dog as a companion).
If you would like to seem more pictures, please follow me on
Instagram
. I also update Instagram a lot more often then my website.