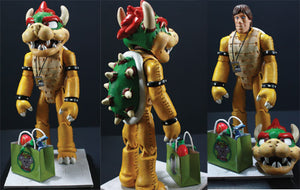 I originally made this figure for a Halloween contest, but I didn't make the deadline, so I ended up adding a base and made it look like an attendant to San Diego Comic Con. I also gave him a bag full of stuff that he bought at the con.
For the Bowser body parts, I used a vinyl Bowser from ebay. For the figure, I used a playschool Luke Skywalker figure. He came with a cool helmet that could be taken off, so I put that on the inside of the mask to make sure it would fit right. The bag was printed, laminated, and then glued together. The toys are just random little toys that I had in my parts collection.
If you would like to see more pictures, please go to
My Flickr Page
.