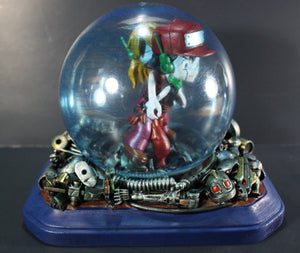 I recently played Cave Story and I fell in love with it. I wanted to make a figure from that game. I looked up some pictures and found a great picture by
glitcher
from Deviantart.
I wanted to do this, but I was faced with a couple of problems...mainly the bubble. I was racking my brain, until I stumbled across a musical snow globe that would work perfectly. The dome is plastic, so the paint won't come off of it as easily as it would glass. The dome is also removable so that you can get a better look at the figures.
I thought that the Pinky Street form would work great, so I used them as the base. Quote's head is Ash's head from a pokemon figure.
If you want to see more pictures, pleas go to
My Flickr Page
.