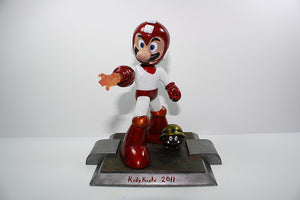 Lately I have been into mixing characters, and I wondered what Mario would look like wearing the Blue Bomber's Armor. Well here you go. I decided to make him have fire power because I liked the colors.
I used a Megaman vinyl figure, a Mario vinyl figure's face, and a Goomba for the Neomet. I sculpted the Goomba's head, and I used Apoxy Sculpt to fill in the holes in the figure. The figure stands about 6 inches tall
If you want to see more pictures, please go to
My Flickr
. If you would like to purchase it, please head on over to
My Custom Store.