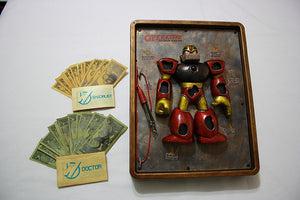 I have finally finished my Gutsman Operation game. This is a working game that works just like regular operation, except the board is using a Jazwares Gutsman vinyl, so the board is a little more 3D. I used an Ironman Operation game for the little pieces ,the graphics for the cards, and the frame for the game. I used wire to line the holes for the pieces and I just wired the old Operation insides to work with this. I damaged the cards and money to match the stressed look of the board.
The money, box art, and instructions were custom made in Photoshop. It was a lot of fun putting together all these pieces to get a great game together. If you would like to see more pictures, please go to
My Flickr Page.
I also have video showing that it really works on
Youtube.
I haven't decided whether I am going to sell this one yet, but when I do, I will let you know here. I may save it for El Paso Comic Con, but it will depend on how much notice I get with it also.
This wasn't the only game I am working on. The next one will be a lot of fun. I will give you a hint, the next one will have to do with the classic game Hungry, Hungry, Hippos.