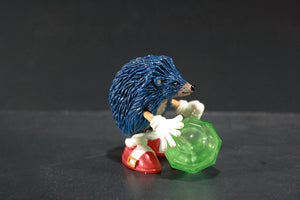 I have made a real Mario, Wario, Toad, Luigi, and Princess Peach, but what about our animal friends from Sega? Here is Sonic the hedgehog as I think he would look like as a real hedgehog (As real and he can be with big shoes and hands anyways). I have seen a lot of people try to bring him to life with photoshopped pictures, but I thought he deserved an awesome figure. This figure stands about 2 inches tall.
I used a Schleich hedgehog and the hands and feet from a gashapon Sonic figure. I had the Chaos Emeralds lying around in my fodder box. I was trying to make something that was a little more affordable for Sale at the El Paso Comic Con. How much do you think this should go for? Parts cost me about $10, and it didn't involve a lot of labor. Currently, I have two made, and I think I will make a few more, but with different accessories (I don't have anymore Chaos Emeralds).
If you would like to see more, please go to
My Flickr Page.
I am trying to come up with some more simpler ideas for the comic con, so keep an eye out.