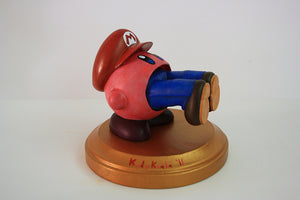 If you were to google image search Kirby, one of the first images you see is Kirby eating Mario from Smash Bros. Well I took this idea and went with it. The only thing I added was a Mario hat to make it seems like he was gaining Mario's powers.
I used a vinyl Kirby from Japan and a vinyl Mario from a local Walmart. It was an easy custom, but I wanted to try something different with the painting. I wanted to play with the texture of the painting. The items stands about four inches tall and is about three inches in diameter. To see more pictures, go to
My Flickr Page
I am trying something different this time around. I am going to try to sell my items via my own website instead of using others. I just want to see how well this works. This item is for sale for
$132
shipped. If you are interested in buying this, please contact me at
donald.c.kennedy2@gmail.com
with you information and I will send you a Paypal request.