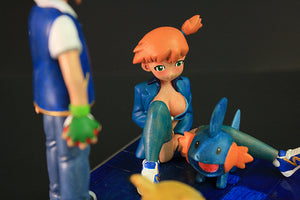 I love Pokemon! I have loved it all the way back from Red and Blue. I also love the cartoon, but one of the things that bothered me was that Misty and Ash always had some tension. I think they should of hooked up at the beginning, but I guess that would have made it boring.
This is how Misty should have gotten Ash's attention. Here she is wearing colors that would suit a water gym leader. I used a Ash pokemon figure, a Misty figure's hair, a hentai figure for the pose (I covered up the nudity to keep it PG-13), a Pikachu and a Mudkip figure. If you look closely, you will see that the tiles are painted to look like a pixelated pokeball.
If you would like to see more picture, please visit
My Flickr Page
. If you are interested in purchasing this, please hop on over to
my new store
.