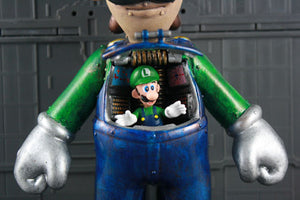 I have been getting a lot of requests to buy my Yoshi Mech and Mario Mech, so I thought I would make one to actually sell. Here is my Luigi Mech. He was made with a Luigi vinyl figure and a bunch of Lego bricks.
I decided to put Luigi inside the main body to change it up a little bit. My favorite part is the door. I used Lego parts to do the hinges and I think it came out really cool.
I don't think I will be doing anymore of these unless Nintendo brings out some better Giant Vinyl figures. I wanted to do a Giant Princess Peach and give her Machine-Gun-Jubblies, but I don't see Nintendo ever making a 10" Peach. I know that there was a Donkey Kong made, but I don't like the pose of the figure.
If you are interested in buying this figure, check out
My Ebay Listing.
If you want to see more pictures
My Flickr Page