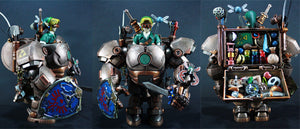 In the future of Hyrule, the battle between good and evil still reincarnates itself. Here is Link riding in his trusty "steed" Epona. Wearing his classic Hyrule battle uniform, which has been used for thousands of years, Link rides forth to battle the evil Ganon in his newest form.
I wanted to make a futuristic Link, but still keep some of the classic things that we all know about him. I also wanted to have a fun way for him to carry all of his inventory. Can you count how many items are on there? I count 55, but I may be one or two off. For "Epona", I used a Wreck it Ralph Hero's Duty figure. The Link is a figure that I got off of eBay, and the accessories were parts from my parts bin and some things I ordered. This wasn't a long build, but it was parts intensive, so ended up being a bit more expensive than I wanted. This figures stands about 6 inches tall.
If you would like to see more pictures, please go to
My Flickr Page
and if you are interested in purchasing this, you can go to
My Etsy Store
. Thanks so much for looking.