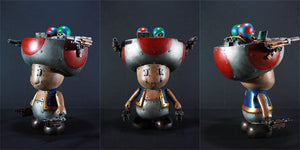 Here is the latest addition to the Mario Universe Mech series. I figured since the Toads were the smallest of the group, they would beef up their Mechs with some heavy fire power. I also figured that since there was a bit more in this Mech, that maybe a co-pilot was need to help with the weapon systems and other controls.
For this I used a vinyl Toad figure for the base, a Halo Warthog for the cockpit, and some guns from my parts bin. I believe the guns on the hands are from a Star Wars Destroyer droid, and the ones on the head are from a Transformers figure.
If you would like to see more pictures, please go to my
My Flickr Page
. Please like
My Facebook Page
to see current works in progress and other things going on.